SAINT-PAUL-DE-VENCE, THE HOME OF ARTISTS
La Vague de Saint Paul is located not far from Saint-Paul de Vence, a traditional fortified village dating back to the XIV century perched atop a hill between Nice and Cannes. Considered to be one of the most picturesque villages in Provence, Saint-Paul-de-Vence was for a long time a favoured destination of artists from far and wide: Marc Chagall made his home here. Henri Matisse lived nearby, in Vence. Jean-Paul Sartre, Pablo Picasso, Yves Montand, Simone Signoret, Lino Ventura and poet Jacques Prévert used to frequent the famous hotel-restaurant La Colombe d'Or.
Today, Saint-Paul de Vence remains an extremely popular tourist destination, attracting more than 2 million visitors a year.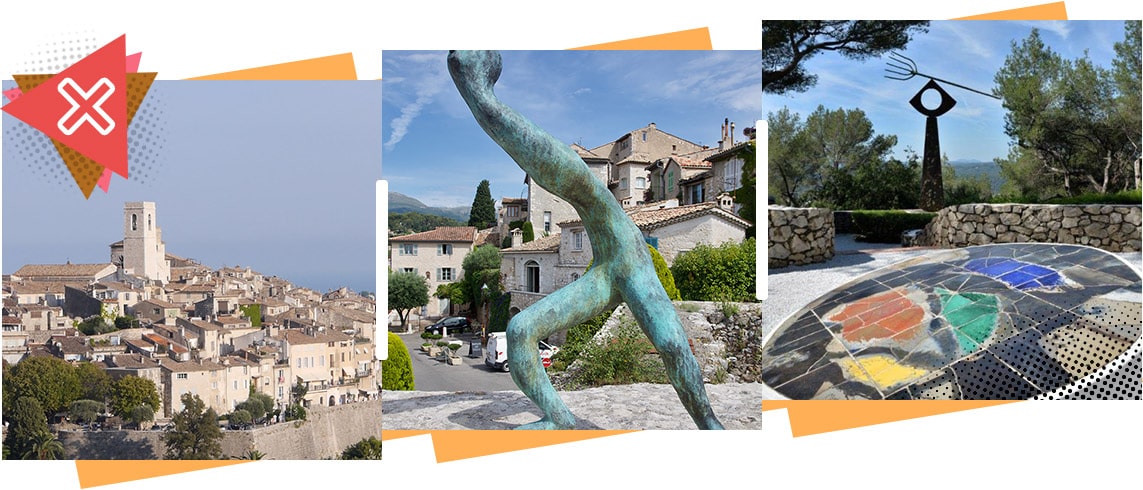 THE FONDATION MAEGHT, ONE OF THE MOST IMPORTANT COLLECTIONS
La Vague has been a partner of the Fondation Maeght and a member of its Société des Amis since it was opened in 2013. It houses one of the most important collections of paintings, sculptures, drawings and graphic works of modern art by contemporary artists in Europe, with more than 13,000 references: a true treasure trove of sculptures by Alberto Giacometti, works by Joan Miró and masterpieces by Pierre Bonnard, Marc Chagall, Alexander Calder, Georges Braque to name but a few. The collection was started thanks the exceptional donations by Marguerite and Aimé Maeght, but since then the Fondation Maeght has continued to evolve and expand through Art encounters, gifts and purchases.
Since it opened its doors in 1964, the Fondation Maeght has organised more than 140 exhibitions of international renown: major thematic exhibitions (l'Art vivant aux États- Unis, André Malraux le musée imaginaire, L'art en mouvement, le Nu au XXe siècle, La Russie et les Avant-Gardes, Les Aventures de la vérité, etc.), monographic exhibitions (Kandinsky, Chagall, Calder, Matisse, de Staël, Bonnard, Giacometti, Miró, Braque, Dubuffet, etc.) as well as exhibitions of more contemporary artists in recent years (Yan Pei-Ming, Pier Paolo Calzolari, Takis, Jacques Monory, Gérard Garouste, Christo and Jeanne-Claude, Eduardo Arroyo, Lee Bae).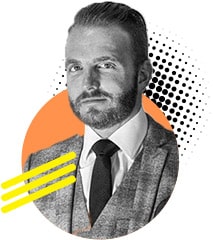 Thanks to its national and international standing in the world of art and culture in the broader sense of the term, the Maeght Foundation contributes to the development of the commune of Saint-Paul and the area around Vence in general. That's why, since we arrived at this magnificent site nestled deep within the Sine forest, it seemed natural for us to get involved with the Maeght Foundation and become an active partner in its work.
Guillaume PUIG, Manager of La Vague de Saint Paul

ART AT THE HEART OF LA VAGUE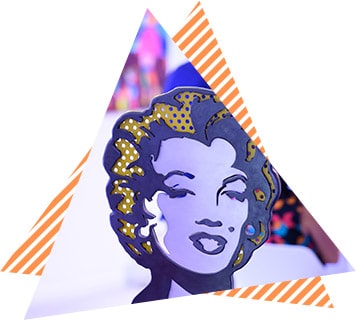 Art is omnipresent throughout the year:
From April to October with its annual exhibition of both internationally renowned and emerging artists, which takes over the bar, the restaurant and the gardens
From June to September alongside the events held at the restaurant (brunch, seafood buffet, farm to table, etc.), accompanied by performances by local musicians
In July through its partnership with the Nuits du Sud festival in Vence
And throughout the year in collaboration with the Maeght Foundation, Saint-Paul-de-Vence, the CRT Côte d'Azur as well as for our seminars in facilitating team-building.

SHOWCASE FOR THE WORKS OF A. ALBERTI & J-F. BOLLIÉ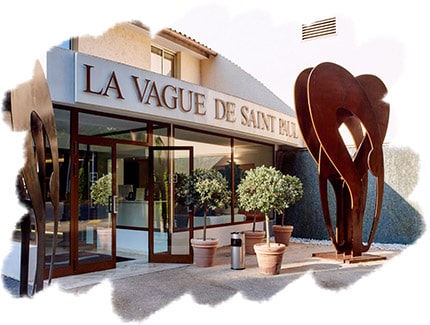 J.-F. BOLLIE
"I love exhibiting in my region, I love beautiful places and La Vague is one of the most beautiful places of our region! I know this hotel well. I've been able to exhibit all the themes that have contributed to my evolution as an artist, from very large sculptures to indoor sculptures. La Vague has become a crucial venue for exhibitions: the way the pieces are showcased is a work of art in itself, not only thanks to the multiple outdoor spaces where the sweet scents of the Mediterranean pervade the air, but also to the refined interior with its fluid design that makes discovering the works of art a real journey of discovery."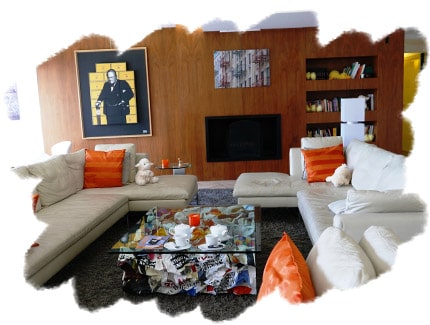 A. ALBERTI
"Nestled among the hills of St. Paul, near the Fondation Maeght, the premier address for art in the region, is La Vague de Saint Paul, a building dating back to the 1970s characterised by sleek lines and undulating curves, surrounded by green. I have had the pleasure to stage exhibitions of contemporary art since 2014 where works by renowned figures rub shoulders with those by upcoming artists. The colours, shapes and materials imbue La Vague with new life each year, reinventing the space and reconfirming its status as a conduit for artistic expression that warrants rediscovery season after season."

WELCOME TO A LAND OF NEEDS AND DESIRES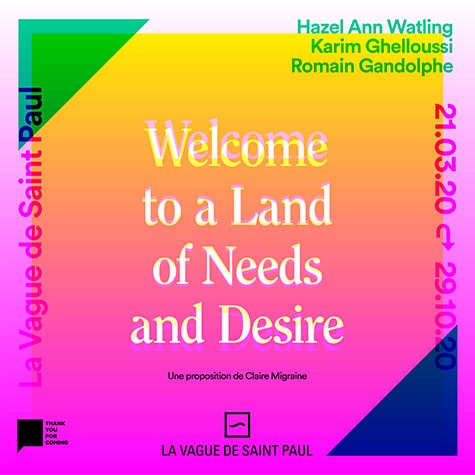 From July 1st, La Vague de Saint-Paul will be showcasing the exhibition Welcome to a Land of Needs and Desires, which brings together artists Romain Gandolphe (1989, France), Karim Ghelloussi (1977, France) and Hazel Ann Watling (1984, Great Britain).
These artistes are engaged in pondering their personal relationship to the history of art and the context of dissemination and perception of images and works.