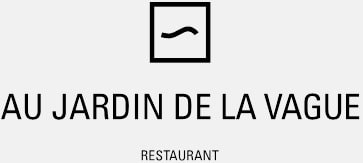 Au Jardin de La Vague by Akhara Chay
A contemporary interior where works of art and colors are mixed.
A terrace between vegetation and panoramic view on the swimming-pool and olive trees.
The restaurant Au Jardin de la Vague invites you everyday to an exceptionnal culinary journey.
Maître Restaurateur and Disciples d'Escoffier, Akhara Chay has learnt with the most famous Chefs :
Ghislaine Arabian, Alain Ducasse or Eric Provost to name but a few.
Au Jardin de la Vague, Akhara and his team imerge you
in a creative culinary cuisine, sprinkled with Asian flavours.
Open every day except Mondays and Tuesdays, From 12.30 to 14.30 & from 19.30 to 21.30. Appropriate clothing must be worn. Recommended booking.

Seasonal menu based on fresh and local food
or
Menus composed by Chef
LUNCH
– Monday to Friday, July and August excluded
3-course menu of the day : 35€ per person, water and coffee included
– on Saturdays and Sundays
3-course menu of the day : 55€ per person, water and coffee included
– All week in July and August
3-course menu of the day : 55€ per person, water and coffee included
DINNER
– 3-course Dinner à la Carte : 69€ per personne, drinks excluded
– Carte Blanche Menu of the Chef : 85€ per person, drinks excluded
The menu 2020
Wine menu